I've learned how to make "pesche dolci" (sweet peaches) from my grandma Angela. Their called like this because they look like peaches. They are made of two cookies, soaked in alchermes (an Italian, red liquor that gives them their beautiful colour), filled with crema pasticcera (custard), a chunk of chocolate and then covered with granulated sugar.
To my surprise, it turned out a lot of our guests, who came to tour Abruzzo with us, were looking for this recipe, so I decided to post it on our website blog!
Fabrizio and I have a deep love for food and cooking, as you already know. I can easily say I grew up in the kitchen and that's only thanks to my grandma! I remember the first time we made gnocchi in the basement…I was only 5! She is one of the best cooking teachers I could ever have! I'm so thankful for all the afternoons we spent (and still spend) together! She, of course, learned how to cook from my great-grandmother: she used to cook for weddings, baptisms and all the celebrations they had in our small village in Abruzzo.
The most important thing I learned about traditional cuisine is…unconventional measuring! It is really hard to give exact quantities for the ingredients; everything is made by handfuls and pinches!  So, if you like cooking, you know how difficult it can be to give a precise recipe for a dish. This time I decided to try measuring!
Here's what I got:
recipe for the cookie dough
4 eggs
300 gr of sugar
1 kilogram of flour
2 small glasses of milk (1 cup)
2 glasses of olive oil (2 cups)
32 gr of baking powder
1 grated lemon
recipe for filling and covering
custard
chocolate chunks (my grandma prefers milk chocolate, but you can use the type you like)
Alchermes liquor
granulated sugar
Procedure
1 Mix flour with baking powder
2 add eggs and sugar, then oil and milk
3 Make a soft dough and form small dough balls
4 Bake the dough ball at 180 degrees Celsius. Take them out of the oven before they get colored on top (like in the photo below).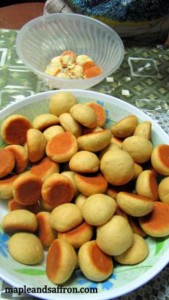 5 Using a knife or a spoon, dig each cookie in the middle and make a hole (be careful not to break the cookie!)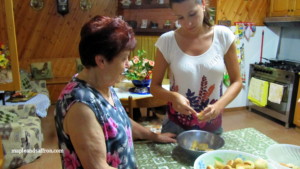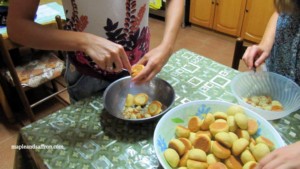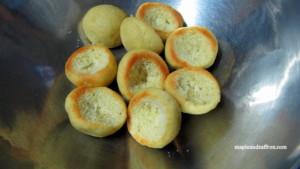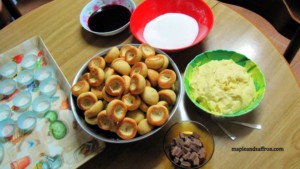 6 Soak the cookies in alchermes liquor
7 Fill half of the cookies with custard and add a small chunk of chocolate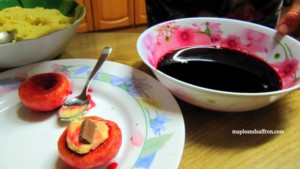 8 Using the empty cookies, "close" the filled ones and roll the "peach" in granulated sugar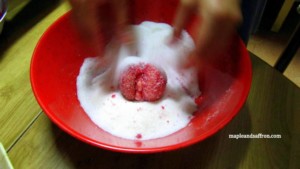 …voilà! Delicious sweet peaches!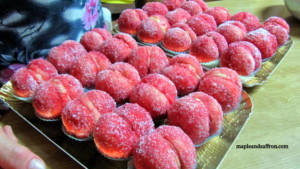 Are you going to try this recipe? Send us photos of your sweet peaches!
©Maple&Saffron recipe