Grandma has become one of Italy's PASTA GRANNIES superstars!
Watch the video and come cook with her in Abruzzo!
Maple is the symbol of Canada. Saffron is Abruzzo's one.
Alessia is half Canadian, Fabrizio is 100% from Abruzzo.
Saffron is the best-known symbol of Abruzzo in Italy; it's the symbol of its gentle but strong heart, one of the emblems of its tasty and genuine cuisine! Saffron represents Fabrizio, professional musician with a deep love for jazz, a past as sous-chef and a passion for travels. World-wide spirit, after 20 years of trips around the world, he met Alessia and together they kept deeply exploring Abruzzo and Italy's best kept secrets.
Maple represents Alessia, language teacher, grown up in Italy with a love for taste and traditional food.
She's been traveling since she was 12, but she always goes back to her first love, Abruzzo! Making gnocchi with her "nonna" since she was 5, she loves cooking and travelling, discovering new places and their gastronomic traditions; she believes a good meal can change your entire life forever.
"Why not join us for a trip you will never forget?"
OUR EXPERIENCES
are private, customized experiences
include all meals (breakfasts, lunches and dinners as indicated in each tour description)
include all beverages (as indicated in each tour description)
include all tastings (as indicated in each tour description)
include all visits to attractions
include land transportation, in private air-conditioned buses, from the moment you arrive till the day you leave
have four-star accommodation throughout the tour
give you the ease of unpacking only once and feel at home in your hotel room
have been experienced by us before taking you there, choosing the most stunning places and selecting the best food you could get from our local cuisine
will be personally escorted by us, fluent Italian, French and English speakers, so you will only have to worry about having fun and enjoying your stay.
"All our tours have a different and unique taste"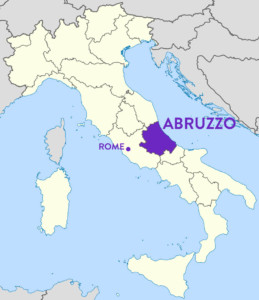 ABRUZZO: the place we both come from! Its traditions, its history and food will overwhelm you!
Just two hours from Rome, Abruzzo has a central position in Italy, which makes it a perfect place to travel around the country. This almost-unknown gem between the Apennines and the Adriatic Sea has a history which goes back in centuries: Greeks and Romans have left their traces and traditions, enriching Abruzzo culture with their monuments, churches and old towns. Its old little villages, where time seems to stand still; its green and rich hills, where olive groves and vineyards generously give their fruits every year; its beautiful mountains, which still keep the ancient traditions alive.
Walk through its medieval towns and castles! Dive into history and legends! Be enchanted by its incredible landscapes, that run from the high peaks of its National Park to the gold sand shores of the Adriatic coast! Taste its exquisite and various traditional dishes! Learn how olive oil and cheese are made while you sip its award-winning wines!
"Take the Abruzzo road with us, wherever you stop is a unique experience"
Abruzzo region has the most stunning and dreamy locations for an unforgettable wedding! Whether you wish to tie the knot where your grandparents did or you're looking for a unique location, you just need to make a wish and… we'll take care of everything! Check our wedding section and choose the perfect wedding services for you!
Do you have relatives in Abruzzo? Do you want to discover your heritage? Come and learn about your Abruzzese roots! We will guide you through an itinerary that will show you how your family used to live, show you the places your family came from and we will be at your disposal to help you find your relatives, contact and visit them wherever they are in Abruzzo!
Advent is a deeply felt moment of the [...]
This is absolutely one of our favourite pasta [...]
Something magical happens in a little hamlet of [...]
New recipe from a tradition we have in Abruzzo
We love to travel too! Follow our adventures around the world…and don't forget to leave us a comment, you'd love to hear from you!