Why Maple & Saffron?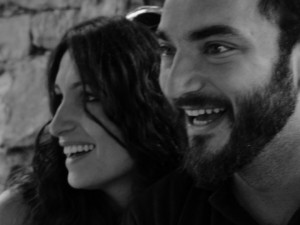 Maple is the symbol of Canada. Saffron is Abruzzo's one.
Alessia is half Canadian, Fabrizio is 100% from Abruzzo.
Saffron is the best-known symbol of Abruzzo in Italy; it's the symbol of its gentle but strong heart, one of the emblems of its tasty and genuine cuisine! Saffron represents Fabrizio, professional musician with a deep love for jazz, a past as sous-chef and a passion for travels. World-wide spirit, after 20 years of trips around the world, he met Alessia and together they kept deeply exploring Abruzzo and Italy's best kept secrets.
Maple represents Alessia, language teacher, grown up in Italy with a love for taste and traditional food. 
She's been traveling since she was 12, but she always goes back to her first love, Abruzzo! Making gnocchi with her "nonna" since she was 5, she loves cooking and travelling, discovering new places and their gastronomic traditions; she believes a good meal can change your entire life forever.
"You made the time in Abruzzo like visiting friends for the weekend, grazie infinite!" Jennifer R. (British Columbia, CA)  
WHAT MAKES US DIFFERENT
OUR EXPERIENCES
are private, customized experiences
include all meals (breakfasts, lunches and dinners as indicated in each tour description)
include all beverages (as indicated in each tour description)
include all tastings (as indicated in each tour description)
include all visits to attractions
include land transportation, in private air-conditioned buses, from the moment you arrive till the day you leave
have four-star accommodation throughout the tour
give you the ease of unpacking only once and feel at home in your hotel room
have been experienced by us before taking you there, choosing the most stunning places and selecting the best food you could get from our local cuisine
will be personally escorted by us, fluent Italian, French and English speakers, so you will only have to worry about having fun and enjoying your stay.
"
We cannot imagine more helpful, intelligent, wam hosts than Alessia and Fabrizio" Michael and Marsha P. (Maine, US)